I already wrote about the African show at the National Anthropology Museum, saying it was the best single art show we've seen in Mexico City. That show is a temporary exhibit, and is completely dwarfed (to the point of being invisible) by the permanent displays. I have spent a total of five or six days at this museum and I now know perhaps a third of the collection, though I question that because I keep on discovering new floors and gardens in unanticipated places. So, in other words, it's vast. The only way I've been able to deal with it is to concentrate on a single pavilion, and not feel that I have an assignment to get through it. If I don't finish, I come back.
The museum itself deals with its huge scale and makes itself more accessible by joining all its buildings into a central courtyard. Over the top of the museum buildings peers the modern city, which makes it feel like part of the alive city.  One view of that courtyard is above, and then turning around and looking the other way this is what you see …
Instead of writing a lot I'm going to show some of my favorite things.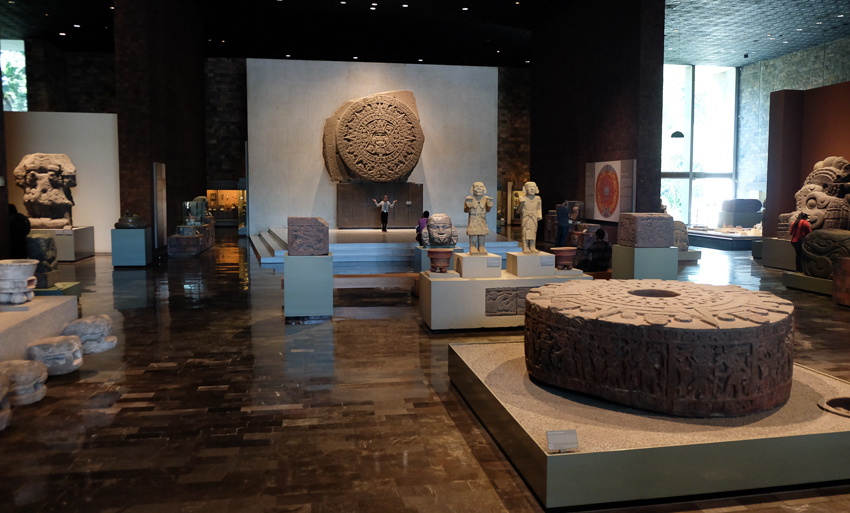 In another pavilion is the giant Stone of the Sun. It's often identified as a depiction of the Aztec Calendar, but in fact was a gladiatorial sacrificial altar which was never finished because it developed a deep crack.
Other countries must have similar attempts to explain and display their national heritage, but I've never been in one like this one. Have you? And where?