Since moving to Montreal in 2006 we've done a steady rotation of food shopping which consists of visits to an Arab-derived supermarket (Marché Adonis, now a province super-star), Kim Phat (an "oriental" supermarket), Costco, the farmer's produce market just north of us (Jean-Talon), and a kind of mongrel restaurant supply warehouse full of food called Mayrand. I say "mongrel" because I've never been able to identify its ethnic group. It's housed in an old industrial building with loading docks shoved right into the aisles, and its employees speak various languages. Unlike other places here, Mayrand seems to have no particular ethnic focus. It's also seemed an odd place because it's never appeared to have any particular ambition to be anything other than what it is. Which is a noisy warehouse with hand-lettered signs catering to the restaurant trade but accepting anyone as customer. Unlike modern box stores, there are no flashing-light barricades put up when a forklift is working, and it's up to you to dodge the wheeled traffic and figure out the signage, which is often creative.

All that is about to change. Next week, after probably decades in its current form, Mayrand is about to move to a new location which promises to be more – what ever that means. In honesty it may be a good move for them. From personal experience I can say that we've converted some of our friends to shopping in places like Adonis (the Arab market), but I don't believe a single soul has visited Mayrand. I don't know why. Perhaps there's a dark secret I am not privy to, or that it's just too free-form and gritty.
We'll see – I have a feeling the new space will be a lot different plus they are positioning it close to a Costco.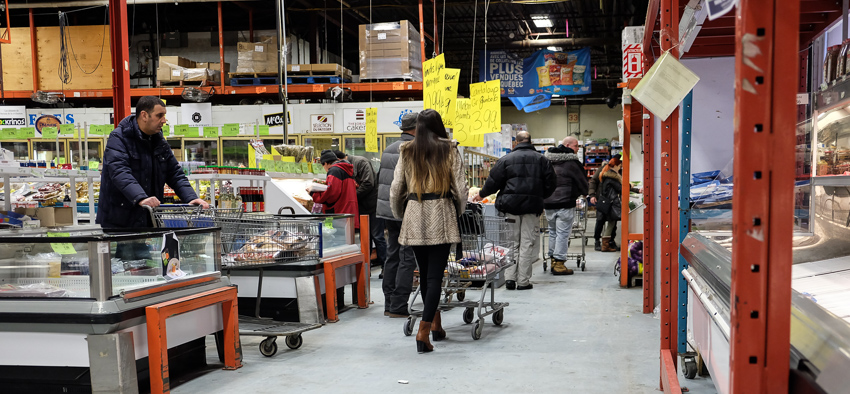 I'll actually be sad to see the old store go. I like the bustle and the amorphous nature of it … that it's all by itself in how it sees retailing and it makes no pretensions. If you like it you are welcome to shop there, and if you don't there are a lot of other places just up the road.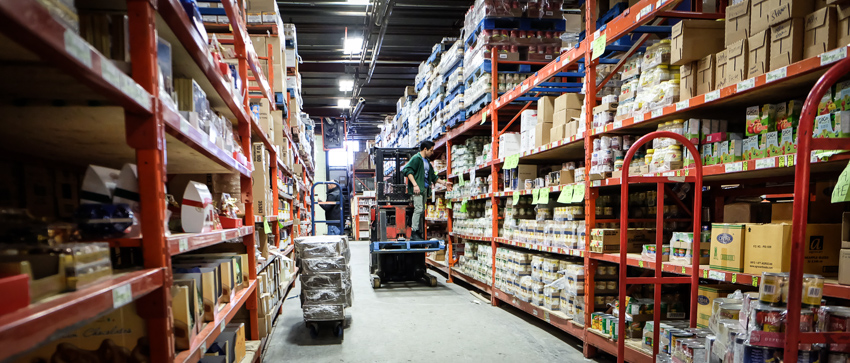 This shows restocking by forklift. Normally there would be more people in the aisles, but this was late Sunday afternoon during a snow an ice storm, so there were fewer customers than usual.
Now the different part
Part of why I enjoy travelling so much are the contrasts. We have market shopping in Montreal too but in our reality it's seasonal. Jean-Talon, our "outdoor" market, retreats into a heated space (much smaller) during the winter so it's still possible to shop there. But there's a big difference between biking to the market for a few vegetables, and hassling with the car for the same. So during the winter we tend towards the warehouses, and in the summer we eat market food.
But last week shopping in Mexico looked like this for us: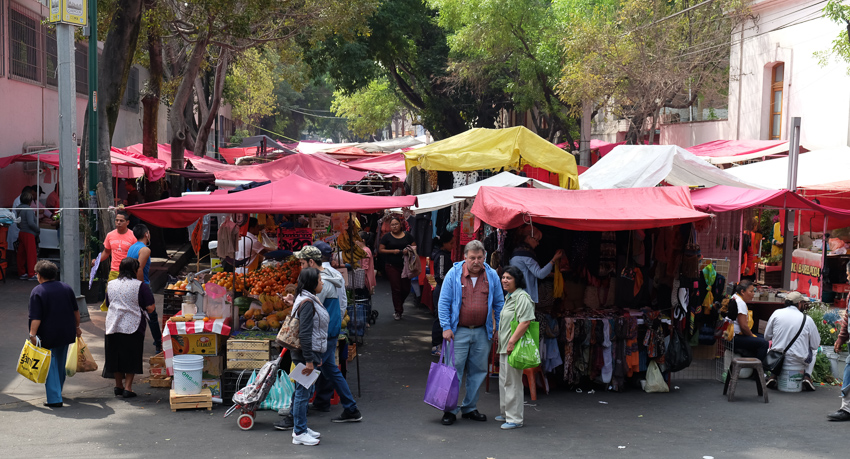 Unfortunately, it wasn't just a contrast in style but a contrast in content as well.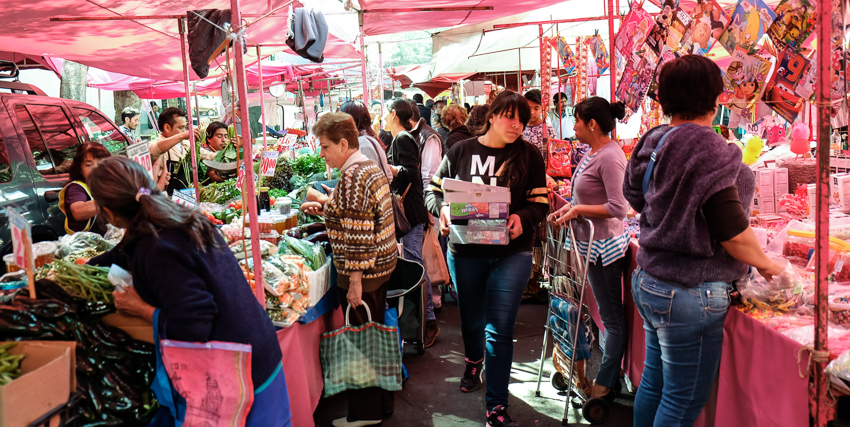 I look on the boxes in Montreal and most of the fruit and vegetables are either from the US or Mexico, but none of it is as fresh and abundant as is easily available in this local market.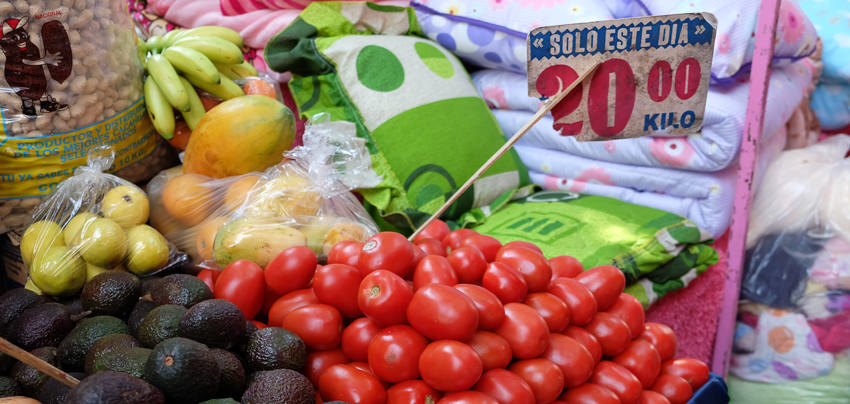 I lamented earlier in these posts about how there hadn't been a red plum tomato sighted in Montreal since the end of October. I can report currently that the situation has eased somewhat but still what's available looks nothing like these unwaxed and fresh tomatoes.
Or the vegetables this woman is bagging.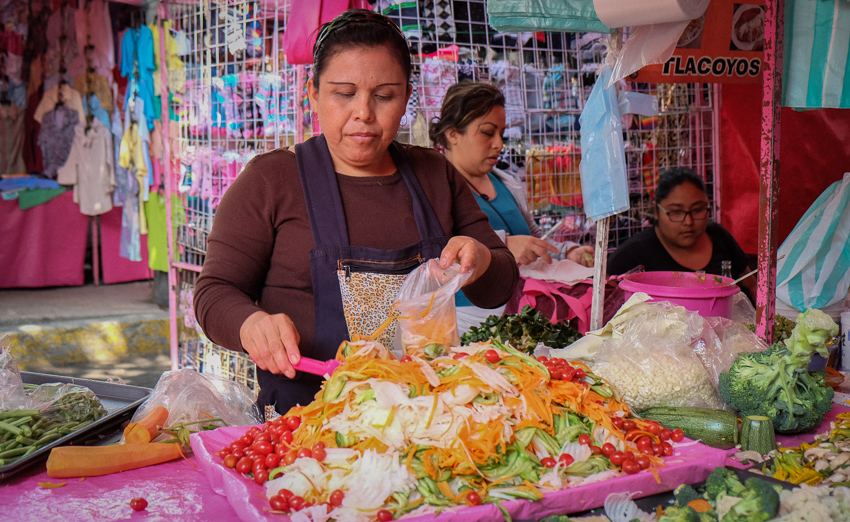 But Mexico wasn't ahead everywhere! Quebec really shines in cheeses, which I am grateful have no season. We bought one farmer's type cheese in Mexico that was mixed with jalapeño peppers (that was okay), but there was none of the variety (and quality) that we have up here.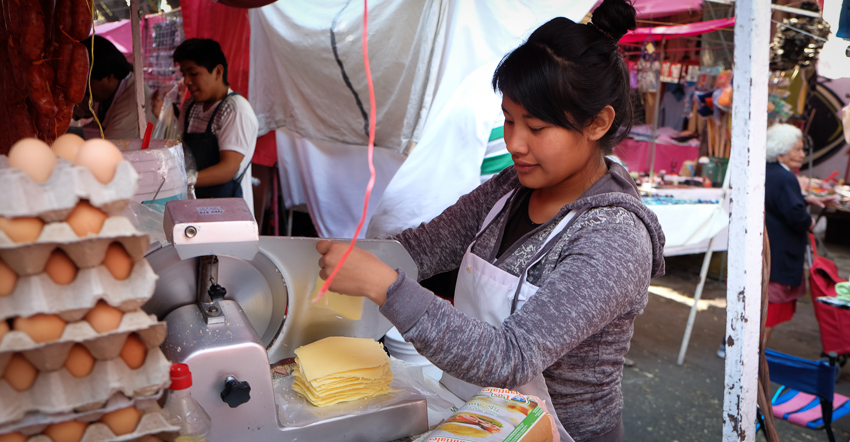 But I'd be lying to say that I don't like the idea of being able to shop year-round in a market, and a market close to home. But we do the best we can. Like I said, it's a snow and ice storm today, which really does not mix with this lifestyle.