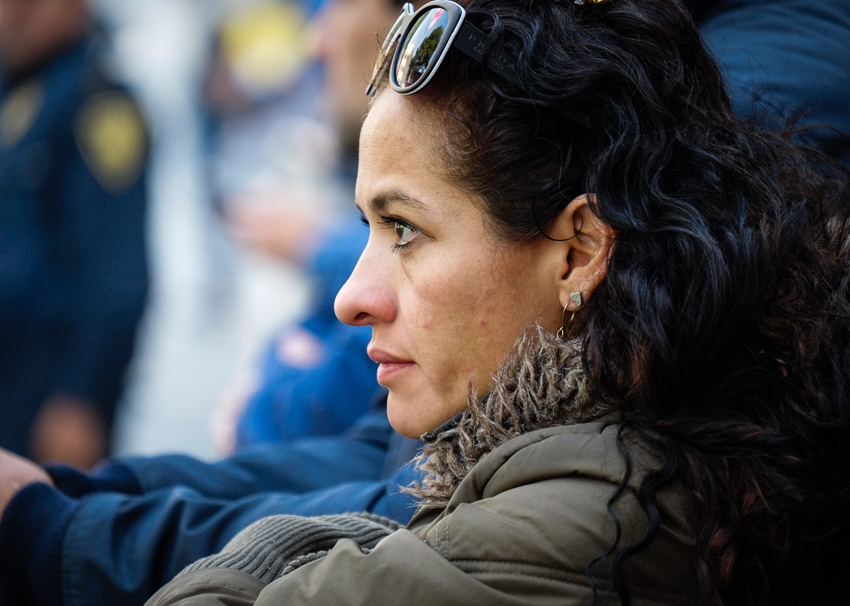 The Pope has left Mexico City now and is travelling to different states in Mexico – yesterday Chiapas, today Michoacán, and then tomorrow in the lawless border city of Juárez in Chihuahua. What I photographed on Saturday and Sunday was a tiny grain in an enormous event, where a person who represents some hope for change (for many people) is speaking out and acting against  the injustice and violence of this society. A friend from Montreal wrote this morning what's a pretty big endorsement from him: "I kind of like this Pope – he's daring." I think that's a good way to put it. The situation here doesn't seem all that dissimilar to me to what Syria was pre-civil war. In some ways, actually, it's worse. The main differences are that the issues are more out on the table and there are people and institutions that are in active opposition to oppression.
There has been lots of TV coverage of the visit, and in watching the man who is the center of this event I notice what registers is not only what he says, but his personal manner and the small characteristics which you notice in coming to an opinion of that person. Those things can't be faked, and he reads to me as a sincere person who is working within a complex system where progress is slower than one would like. Just standing on the podium with the Mexican President and his wife, I'm sure, represents a distasteful experience for him. But while the Pope may have power at the Vatican, here he has to acknowledge the real power of the state.
There is something else too, which is that this trip represents personal danger and that for even a much younger person the itinerary would be hard. It gives him more authority.
Sunday Morning
We had gotten to the steel barricade along the avenue at 8am on Sunday, knowing that the Pope was scheduled to pass at 8:45. The barricades were the same type that are used in Montreal – long linking sections with supporting feet. It seemed like a conservative assumption that early in the morning on Sunday would cut down on the size of the crowd. I was wearing a coat that I normally wear to freezing temperatures, but I had put it over a t-shirt. The temperature wasn't more than 4C, and after a while I started to feel it.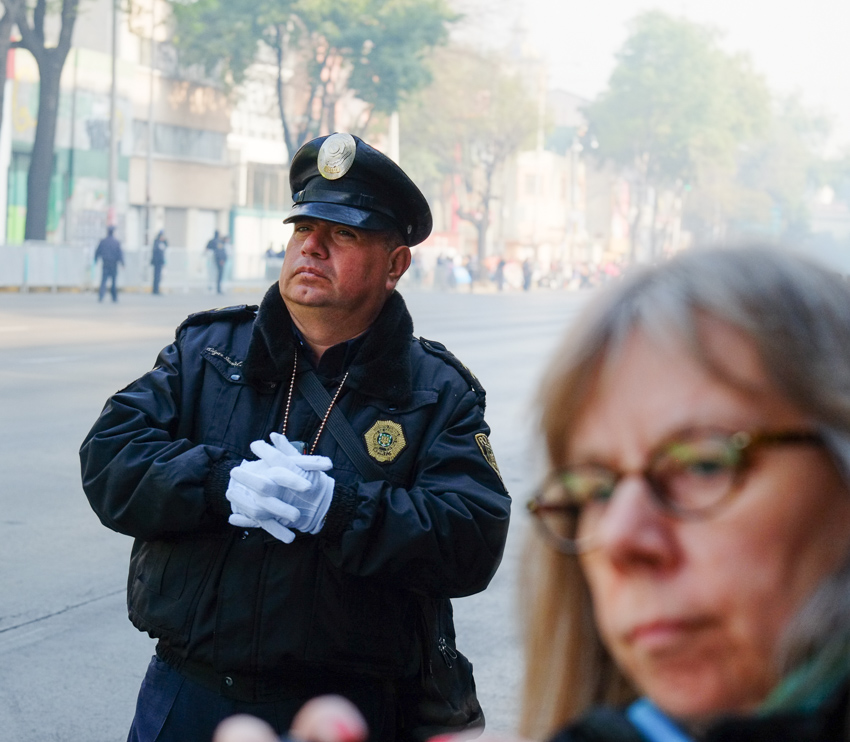 Unlike the day before, I wasn't wedged into a crowd. I could move around a bit and observe, which felt a good deal better. I think these photographs reflect that freedom. I like them much more than the ones I took on Saturday, which I think are okay but I miss portraits and a closer feel for the event itself – instead of just trying to get enough space to raise my camera. Here I could see what was going on and do what I like best, which is photographing people.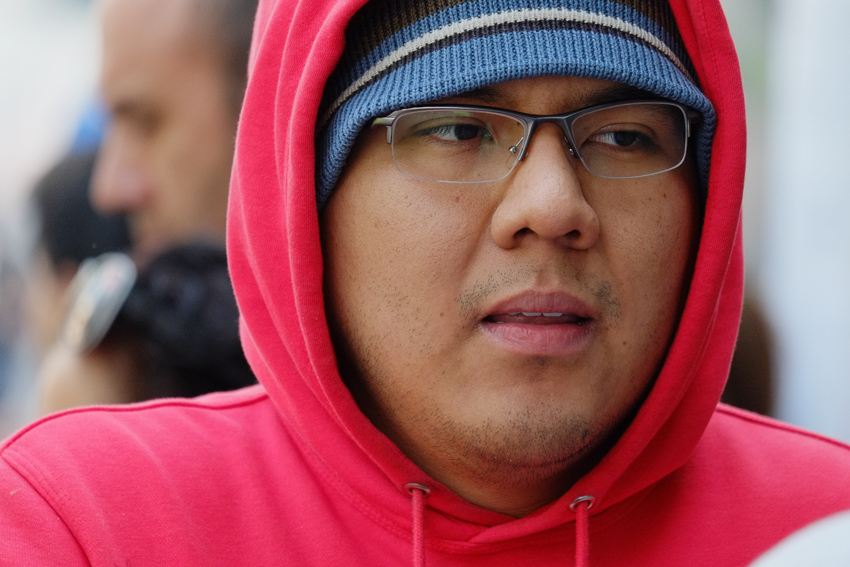 At first it seemed like I was right, and that there would be few people. But by 8:45 it was starting to feel like a crowd and there was no sign of any motorcade. In fact all the traffic were Mexico City police cars, and many of those were headed the wrong way down the wide avenue.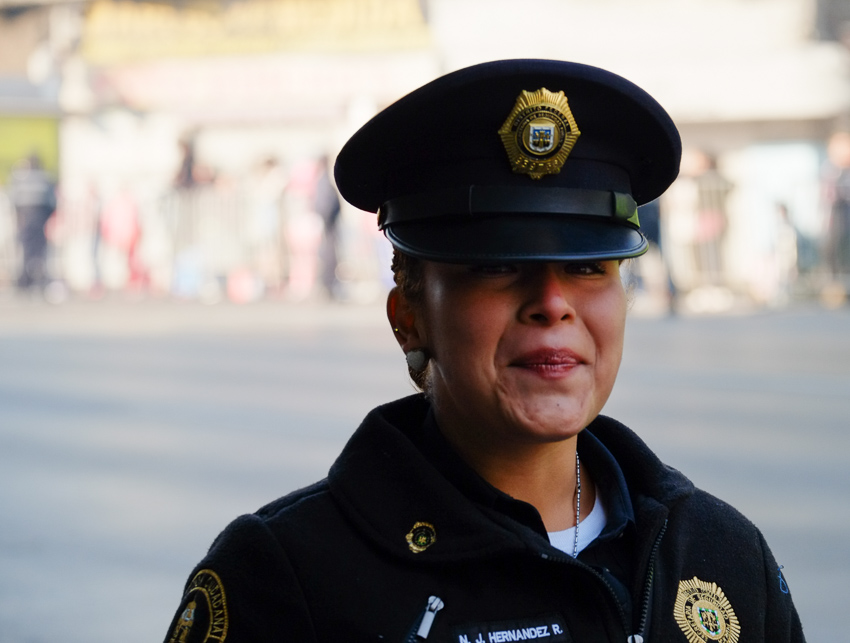 People were showing up slowly. Perhaps everyone was watching TV and had a better idea of timing than I did, because it was cold and there wasn't much point to standing around.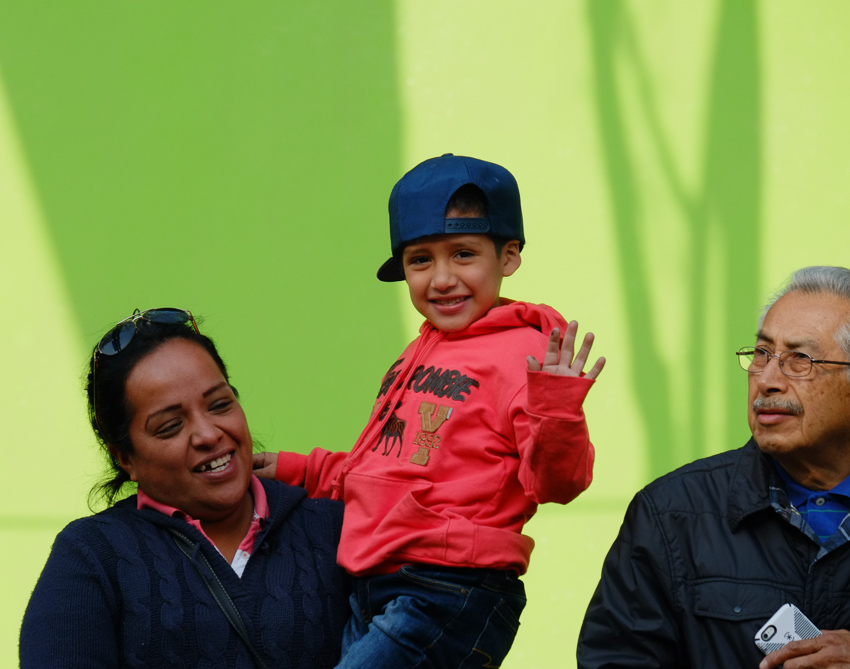 There was a lot else going on too. Suddenly out of nowhere these bike riders burst, sprinting down the open pavement. It must have been fun to have open road ahead.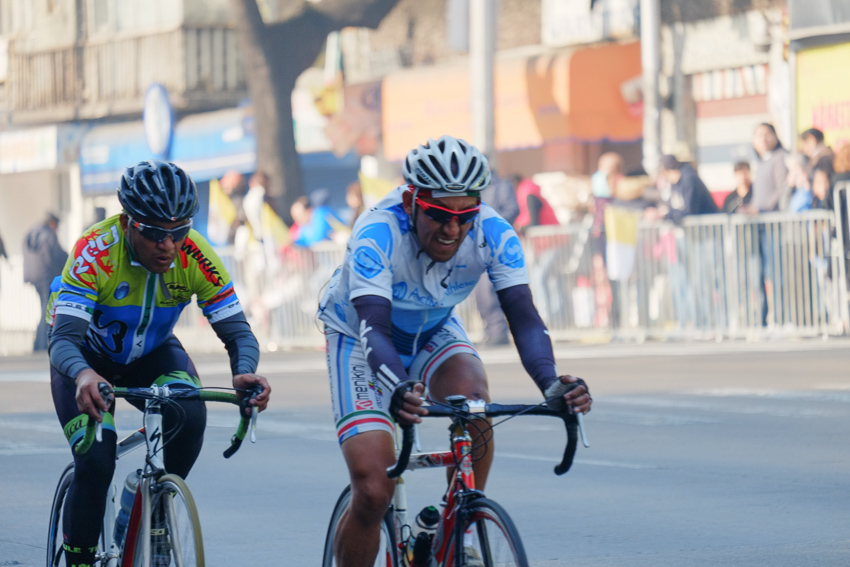 But that was really just a start. I heard what sounded like a loud whoosh and turned around just in time to see this pack racing by. This avenue is normally partially closed to vehicular traffic on Sunday mornings so perhaps the Pope had to make a deal with the bike club in order to get use!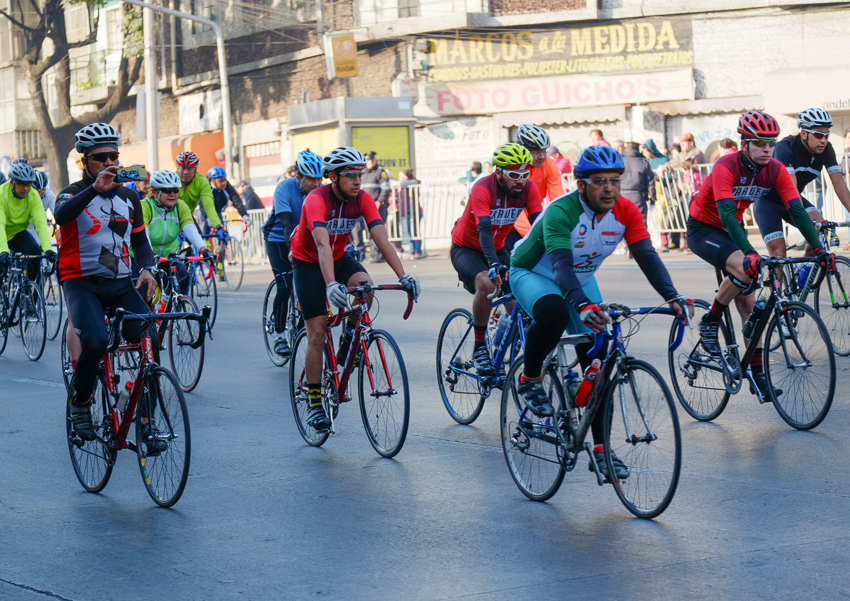 Up until about 8:45 everything had been quite linear, but then events took a twist.
I don't know how I missed the signal but suddenly the crowd picked up the heavy steel barricades, blocks long at a time, and pushed them (our side) into the street, effectively cutting the width of the Papal passage from six lanes to less than half that. Some people, like me, may have been shocked but the general reaction of everyone was laughing. Like, "now we will be able to see El Papa!" The police seemed shocked but there was really nothing they could do about it.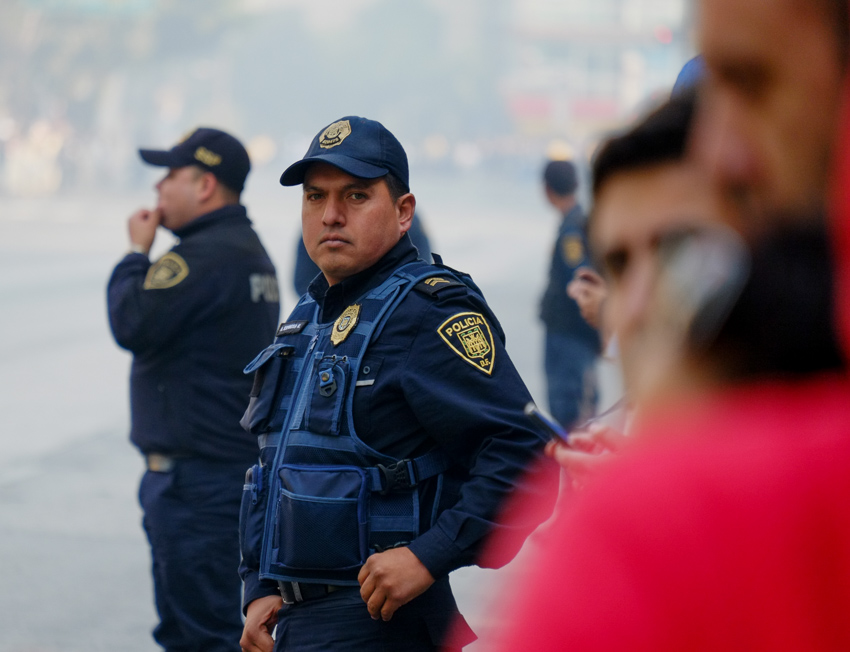 There ensued after this a long period of consultative behavior. Different forms of police would show up on different forms of transportation and would order the barrier back a few feet, or for it to be lined up more crisply. But still, the passageway had not been expanded to more than just over three lanes, about half of what it had been originally.
Then a helicopter appeared above flying fast and angry. I don't know what it was – the type or the pilot – but it had the feeling of power and speed. It was definitely displeased with the situation below and crossed us low several times, really just clearing the buildings.

Not long afterward the heavy artillery began to show up.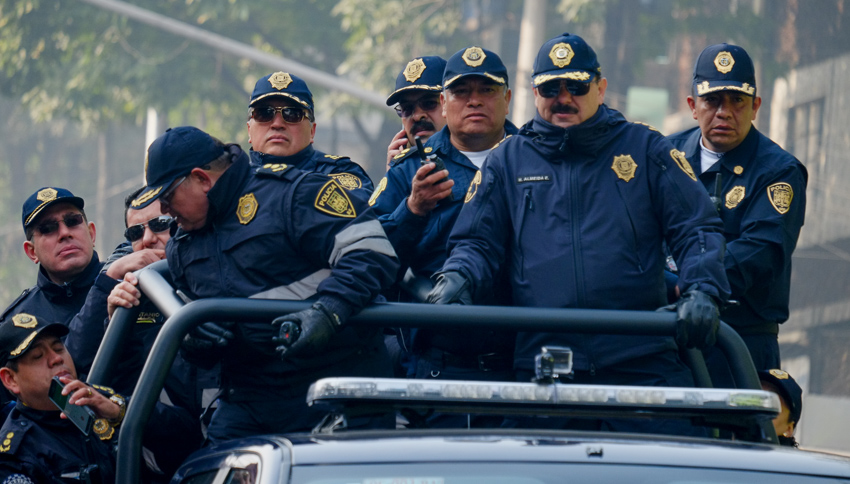 But they weren't anything like what followed.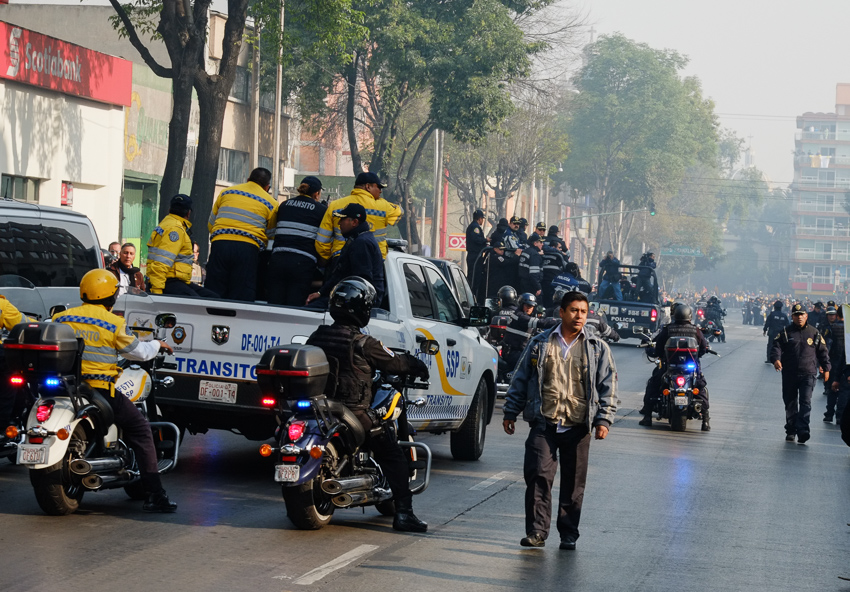 Here you can see the police ordering the barricades back and the road widened.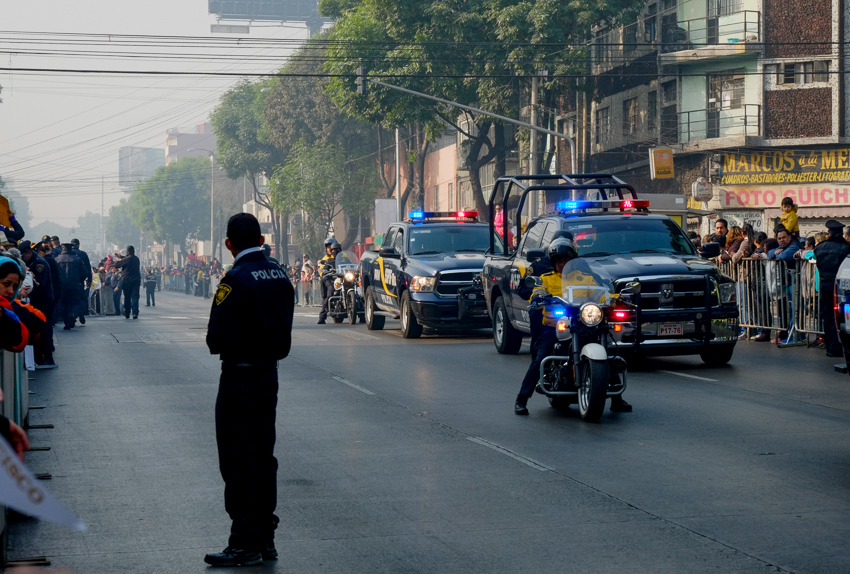 I have to include a few more portraits before the picture of the Pope.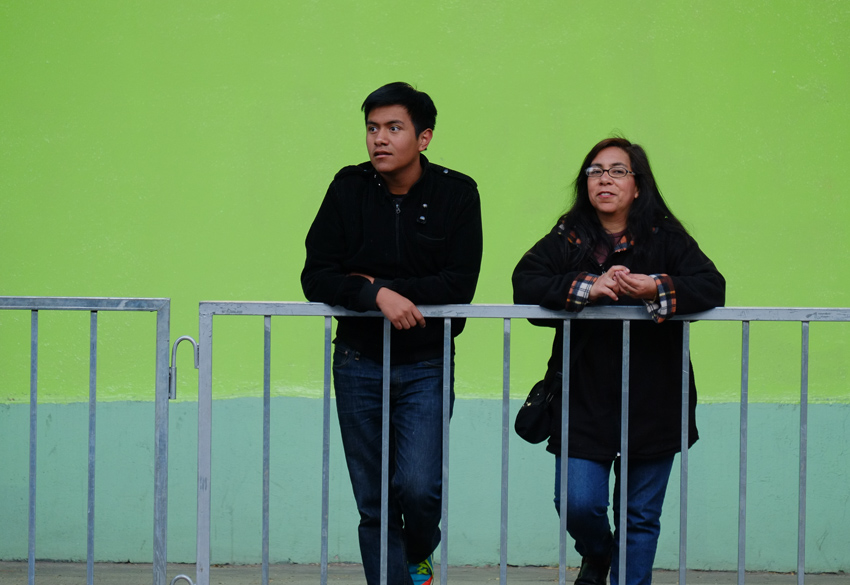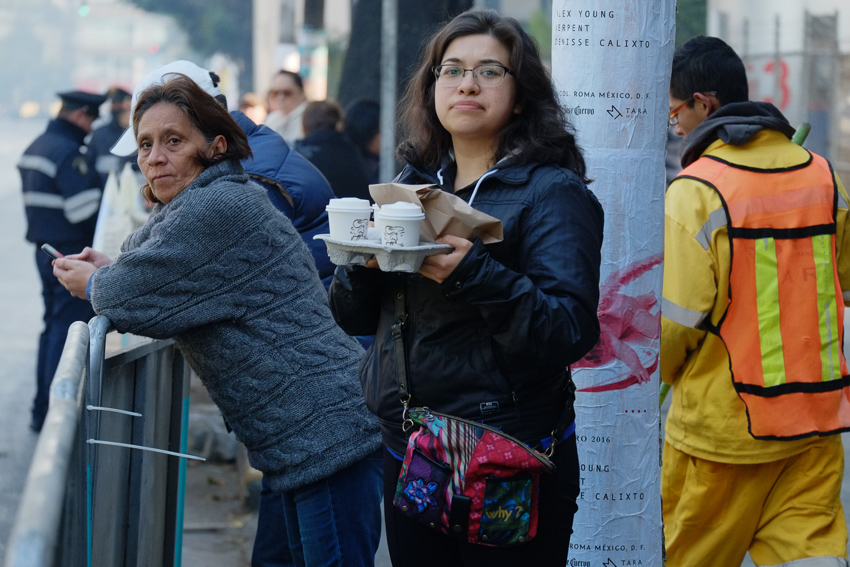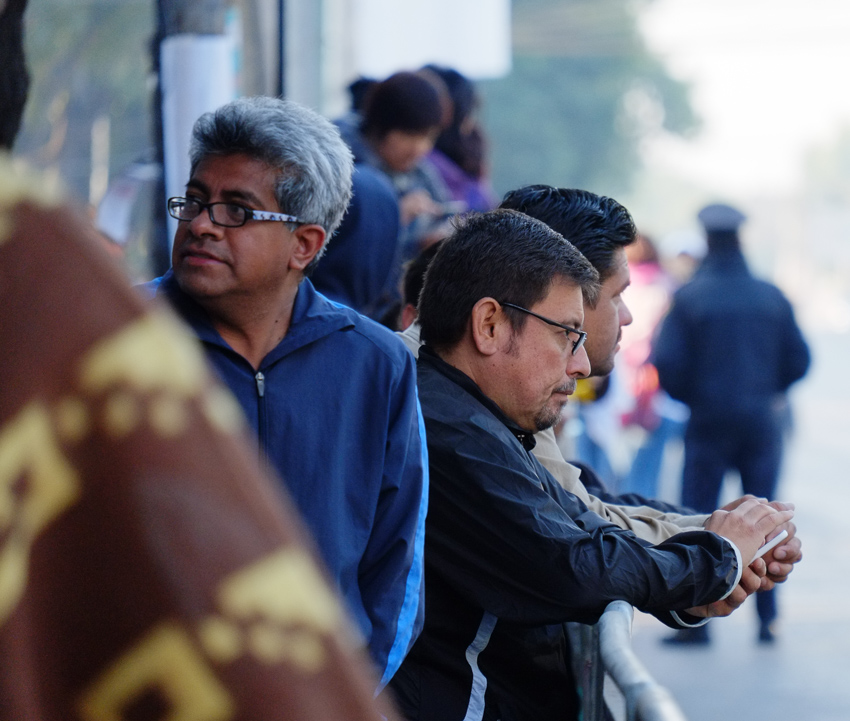 And then the Pope passes by in a flash. I barely saw him, it was so fast. Beth gasped when she saw this photo and pointed out the crucifix in the foreground, but it's actually a steadicam.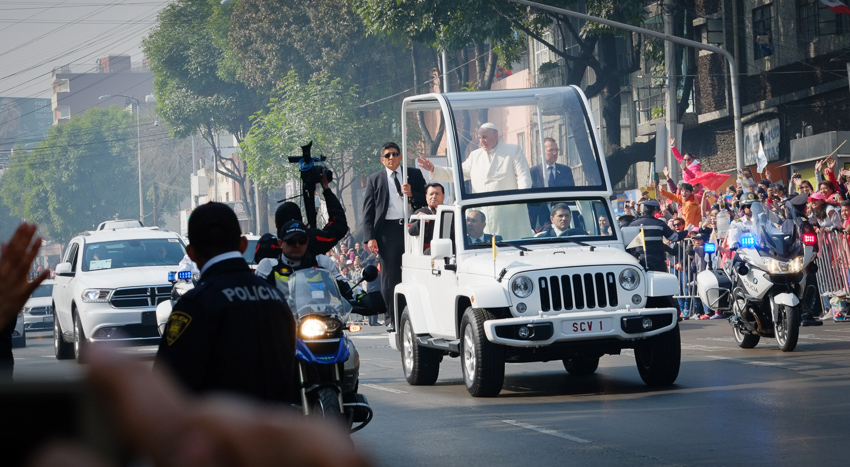 Below, the inevitable review of the phones. Even the police were doing it.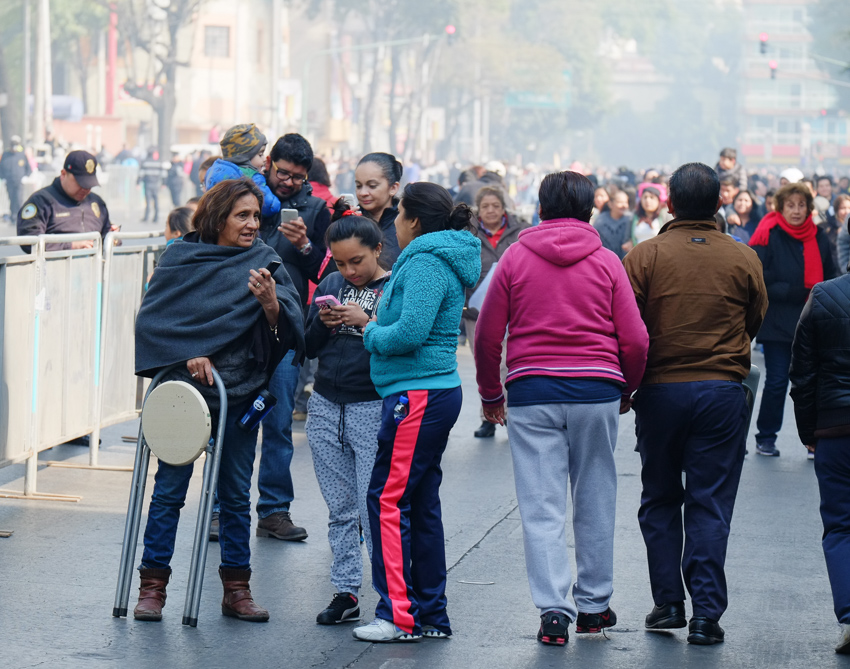 I hope you've enjoyed these photos. I enjoyed them even though I ended up with hypothermia! The Pope had been scheduled to pass at 8:45am at 20.4 km/h. He didn't pass until 10am, and he was hauling.