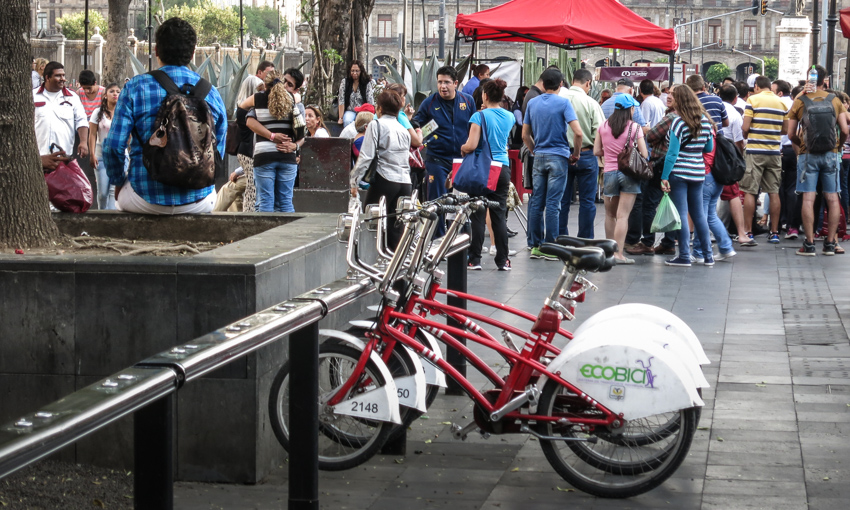 Theoretically, renting a bike in Mexico City as a tourist should be easy. In practice, it's a bit of a pain (but follow me out). Mexicans with national cards can buy a year pass to ecobici for 400 pesos/21.26USD. As a tourist the rate is 300 pesos/15.95USD per week. In addition the weekly pass needs to get renewed every seven days (surprise!), and that means a trip to the ecobici office and, sometimes, a wait. Of course have an ID (you only need a driver's license). As tourist it's still a good deal – see the chart below for comparisons to other cities – but no where as sweet as the year pass. In addition, count on your credit card getting docked for 1500 pesos/79.77 USD for each week. I guess they are protecting themselves in case you turn out to be a criminal with a passport and a desire for the heavy bikes. The deposit is refunded after the rental period is over; our deposits have been returned promptly.
You get the treat of lining up with everyone else to get your pass. Unlike polite Canadians your line-companions will be openly annoyed by the long waits, but along with them you too are required to take a written test to prove your extensive knowledge of the traffic laws in the DF. If you're there when everyone isn't arguing with each other, you might get some help (and a pass) from the generally friendly staff. Recently they have allowed for an English version of the test, which certainly makes things easier. If you are a normal rider most of the answers are common sense.
I'm perverse enough that I enjoyed going to the office, at least the first couple of times. After that it gets a little old, and you wish they might at least consider a two week or month pass, so you don't have to go back repeatedly.
What you can't complain about, though, is the cost. It's less than of the cost of other systems, which follows in the pricing in general for public transport: subsidized and affordable from a tourist point of view.
The ecobici bike rental system in Mexico City has stands throughout the core of the city. It's not everywhere, though, by any means. It is popular and after sounding whiny I have to say that I enjoy using it, and appreciate the bike lanes that are often spacious and well segregated from both pedestrian and car traffic  (the photo above with pedestrians wandering around is on a Saturday afternoon across from the Alamada – a worst case scenario!). Even where there aren't bike lanes, in my experience if you stick to the interior streets (and not the high speed avenues) riding is not too intimidating if you are attentive and experienced. There's room and when there isn't it's because traffic is stopped, and you can do quite a bit better than everyone else! Don't even consider going on the high speed streets and avenues.
Unlike the Bixi system in Montreal and bike rental systems in many other cities, in the DF there is no way around having the plastic card, so it's not as friendly to the visitor. But if you are curious about the city and its people, you'll learn a lot …
How bike rental systems stack up
Mexico City
Montreal
New York
Year started
2010
2008
2013
One year subscription
400 pesos/21.26 USD (2015)
87.00 CAD/62.52USD (2015)
149.00 USD (2015)
One week subscription
300 pesos/15.95 USD (2015)
Not available, 72 hrs for 14.00 CAD/10.06USD (2015)
25.00 USD (2015)
Number of rides
~9.5 million (2015)
3.5 million (2015)
~12 million (2014)
Number of subscribers
~1 million (2015)
38,000 (2015)
97,864 (2015)
Number of stations
444 (2015)
460 (2015)
332 (2015)
Number of bikes
6,500 (2015)
5,200 (2015)
6,000 (2015)
Free ride period
45 min
30 min (1 or 3 day pass)
45 min (other passes)
45 min with annual pass
30 min with others
Additional cost for 2 hour ride
45 pesos/2.39USD (2015)
12.25 CAD/8.04USD (2015)
20.50 USD annual pass (2015)
25.00 USD other passes
Links to websites
ecobici
Bixi
Citi Bike
Table notes:
Cost and usage figures are taken (February 2016) from the following sources:
Mexico City/ecobici
,
Montreal/Bixi
, stations and bikes from
Wikipedia
and news reports. Price differences are amplified by the weakness of the peso and the Canadian dollar currently against the USD (Feb 2016). Currently 1USD=18.5 pesos=1.40CAD